Hiking 101
Are you a lover of the great outdoors? I sure am, and if you haven't been hiking yet, I definitely recommend it! Today I'm going to be discussing the benefits of hiking, the equipment you need and what you need to do prior to your hiking trip.
Hiking is great for your health, both mentally and physically, so it's no wonder so many people do it. But what about the people who want to get into hiking, but aren't really sure what they need? First, ask yourself 'What is my fitness level and what kind of hike am I looking to do?' this will be an important question because starting a hike that's too advanced for your fitness level could cause some problems.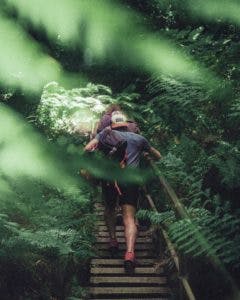 Once you've determined your fitness level and the type of hike's you want to do (ie. beginner, moderate, advanced) then you can also get a good idea of the type of equipment you will need. Expert hikers doing multi-day hike's would need small, lightweight and compact camping equipment like a tent and sleeping bag, etc. But for someone who is just getting into hiking and isn't likely to do a hike that will take them a few days, they wouldn't need to purchase that type of equipment. Why spend the money if you don't need to, right?
What Benefits Does Hiking Have to Offer?
Improved cardio-respiratory fitness
Strengthens your muscles, especially in your legs (quads, glutes, hips, calfs)
Improves your balance
Weight-loss or weight control (hiking can burn more than 400+ calories per hr)
Lower risk of coronary heart disease and stroke
Lower risk of high blood pressure and type 2 diabetes
Lower risk of colon and breast cancer
Helps you sleep better
These are some truly great reasons to get into hiking when it comes to your physical health. That said, there are also mental benefits to hiking, and we all know that your mental health is just as important, if not even more so. So what benefits are you likely to see to your mental state when you go hiking?
Decreased stress, anxiety, & tension levels
Increased happiness
Builds relationships with friends or family (if hiking with others) which improves mood & happiness
Increased creativity & problem-solving skills
Improved memory
Well, if this hasn't convinced you to go for a hike yet, I'm not sure what will!
Equipment
The equipment you purchase will depend on a number of factors, the first and most important one being, where you plan to hike. If you live in an area like Vancouver, British Columbia, then of course it's pretty rainy out here and depending on the weather forecast, it's pretty likely you'll need (and want) a good quality rain coat that provides room for good movement when hiking.
That said, there will always be the basics of equipment that you'll need, regardless of the climate of where you live and plan to hike. Another factor to keep in mind is the type of hike you'll be doing; if you plan to go for a long hike and will stay overnight, then you'll want a tent and sleeping bag, whereas on a quick day trip, you likely wont need that.
The Basics
Navigation (map & compass)
First aid supplies (bug spray, allergy or other needed medications, medical gloves, splits, bandages & scissors)
Hydration & nutrition (electrolytes & high-energy bars are great here!)
Sun protection & insulation (hat, sunscreen, sunglasses, clothing layers, warm hat, gloves, etc)
Communication device (cell phone or satellite communication device for beyond cell coverage areas)
Emergency items (shelter, blanket, whistle)
Fire (waterproof matches, fire starter & small folding saw)
Illumination (headlamp or flashlight – don't forget extra batteries just incase)
Repair kit/tools (multi-tool's are great as they are small & used for many things)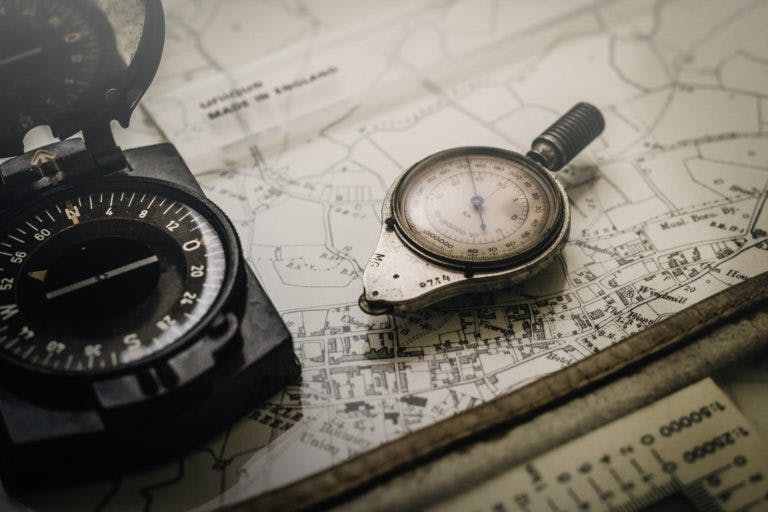 The above mentioned items are things that regardless of where you plan to go, or your experience level, you'll want to bring with you. What about the other equipment like clothing, footwear or daypacks/backpacks?
Sturdy Footwear - This is Huge!
You're planning to be on your feet for the entirety of your hike (unless you stop for a quick lunch or snack) so it's really important that you have good quality footwear that supports your feet. If you're prone to twisting your ankle like I am, I definitely recommended that you get hiking boots that have a high top's for ankle support (6 – 8″ is good).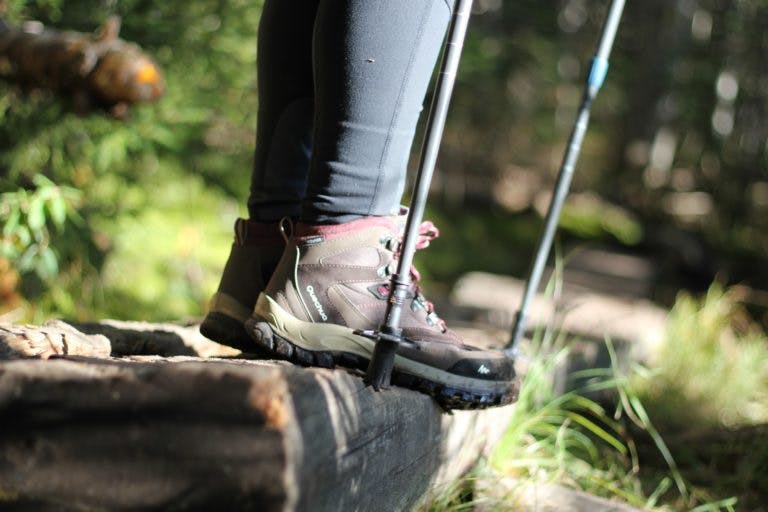 Considerations prior to going out to buy hiking boots; what type of trail terrain will you face? What weather conditions can you expect in your ventures? And what is your personal preference? If the trail you'll be on is flat, then you may be able to get away with a good pair of comfy sneakers. On the other hand, if you're hiking somewhere that has some decent elevation and is rocky, then sturdy hiking boots with ankle protection will be a far better choice. Getting boots that are waterproof, in my mind, is better than not as the chances of there being rain at some point in your hiking adventures is probably pretty high.
Once you've purchased your first set of hiking boots, make sure you use them prior to your trip and get them broken in to your feet. This will make a big difference and will decrease the chances of discomfort during your hike. The last thing you want while trying to enjoy nature is limping around with sore, blistered feet because of rubbing in your new boots in areas that haven't formed to your foot yet and are still rigid from the factory.
Some hikers will also purchase hiking poles as it can help with balance and posture, as well as allow you to come downhill easier and with less impact on your knees. Using poles can also help reduce the pressure from your weight when walking which will translate into better endurance.
Clothing
The key to clothing when hiking is going to be moisture wicking and layers. The layer that comes into contact with your skin is called a 'base layer' and this is the layer that needs to have moisture wicking abilities. When your hiking and sweating, this is your body's way of trying to cool you down through evaporation, so if your base layer doesn't wick away this moisture and it stays on your skin then you'll become cold. Cotton is one of the materials you'll definitely want to avoid, instead look for merino wool or synthetic materials.
We talk about layers, and your base layer, well after that is the 'mid-layer', this is also the layer that provides insulation and will trap your body heat. Fleece is a great insulator and also helps in the moisture wicking process from the first base layer onwards.
Finally, you'll have an outer layer, this is sometimes called the 'shell' and its main goal is to protect you from the elements such as wind or rain. Again, you'll want something breathable so as to continue that moisture wicking process to ensure evaporation of sweat is possible and heat can stay in where it's needed most.
Out of all these layers, keep in mind to make sure that you will be able to have ample movement capabilities incase you have a steep area to climb up – don't want your pants ripping!
So what about socks? This is almost as important as your footwear. As mentioned before, avoid cotton as this will absorb the sweat from your feet and you'll be hiking with soaked feet the entire time, also increasing your chances for blistering. Again, wool or synthetic socks are great in this department.
Daypacks / Backpacks
Despite the list of items mentioned, you'll want to try and find a pack that is lightweight, your equipment should also be as light as possible. If you're hiking for a long period of time, the weight of your backpack will make a difference in the length of your hike and your endurance level.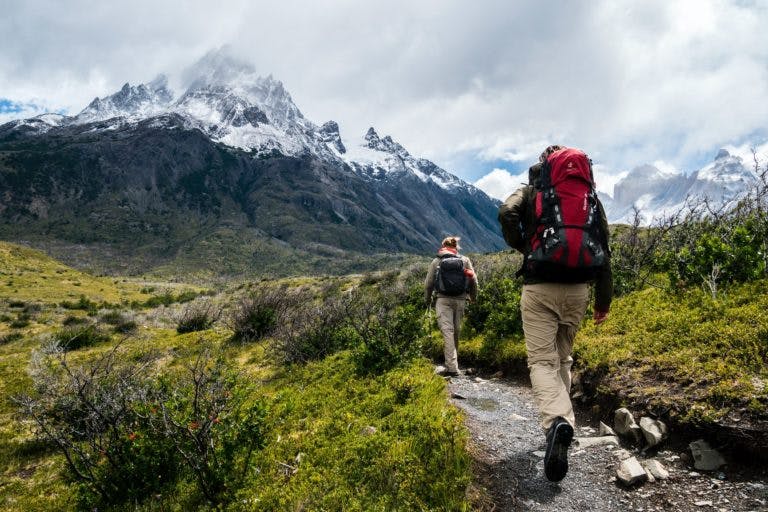 Most daypacks range between 20 – 35L and just like in the name, these are for short day trips. The size of your pack will depend on how long your trip will be; if you plan to do a 1/2 a day trip then you can likely use a smaller 20L daypack, but if you're going for an all day hike, you'll want the higher end of that range at the 35 L mark.
Hikers that are doing overnight trips are going to be looking for a backpack because these are larger and can be found in 40 – 50L or even 50-70L, this will be important since they'll have a lot more gear with them. Anything more than that and you're looking at what we would call 'expedition backpacks'.
Pre-Trip Plan
It's important, no matter your experience level or how long you plan to be out, that you tell someone where you are going, and when you will be back. You can check the weather forecasts, you can pack extra food and water or clothing and things for emergencies but sometimes you just can't prevent those unexpected situations and it's important that if something goes wrong, someone will come looking for you.
In addition to telling someone where you'll be and when you'll return, you should also be checking the weather; there's nothing worse than needing extra clothing and not having it, so check the forecast and pack accordingly.
Find out what possible threats you could run into on your trip; for example, if your hiking in an area that has black bears, you should bring bear spray (make sure you know how to use it!) and bear bells – you can read more about how to stay safe in bear country here. It's important that you try to predict any possible obstacles that could come up during your trip.
Know your route and stay on it. It's so easy to get lost, especially if you're going to an area that's new to you and you don't know. If you know how to use a map and compass, this will help you in the event that you get lost, but it's much better to have a set route that you stay on to prevent the possibility of becoming lost.
Know your equipment and how to use it. Your gear wont help you if you don't know how to use it. Ask a friend who knows, or do some research on how to use the equipment; and then practice with it. Knowledge is great, but when you haven't used the equipment before, and you're desperately needing to, it can become scary – think of the first time you drove, it was scary at first, but after lots of practice it becomes second nature. That's whats important here.
>
Hike On!
Corrine Owerko