Liquid Swords
A  year and a half ago, while watching the heavy Vancouver rain collide with the palliative room's window; the pressure of my mum's hand in mine, finally subsided. 
And there was no breath in the room even amidst mine and my dad's. 
The immediate grief I experienced in the weeks that followed continued to remind me that I knew I needed to fish, walk the land, and be outside as much as possible. However, this was a cold, stark February; and so, the mantra of "fish or die" was born from the attitude that I needed to get out regardless of conditions. 
And so, I did, and in excess. In hopes that maybe, if I just kept casting, the memory and pain would soon vacate, find another host, move on- sort of speak. But it didn't, and for a while there, my grief arguably got worse. 
Dad retreated more into the world of paperwork and protocols that most don't talk about after the passing of a loved one. The prescriptiveness of the daily barrage of government agencies requiring certificates and proof nearly hit an overwhelm with my bereaved dad. 
I barely returned to work able to regulate on the best of days and found solace in the support of walking the rivers and floating the lakes of my beautiful province. 
As the days moved forward, my grief lay stagnant and often at a pause on days when I couldn't fish. It was clear, that processing the death of my mother would require as much time out on the water as possible. 
I took comfort in what writer Bliss Perry reflected upon in a world of fishing as "in a world that insists upon 'means' and 'ends', that dooms every path to a destination, fishing eludes the categories, and so slips the distinction altogether. You become engaged in the nonterminal, participial indefiniteness of 'going fishing' (1927, 28).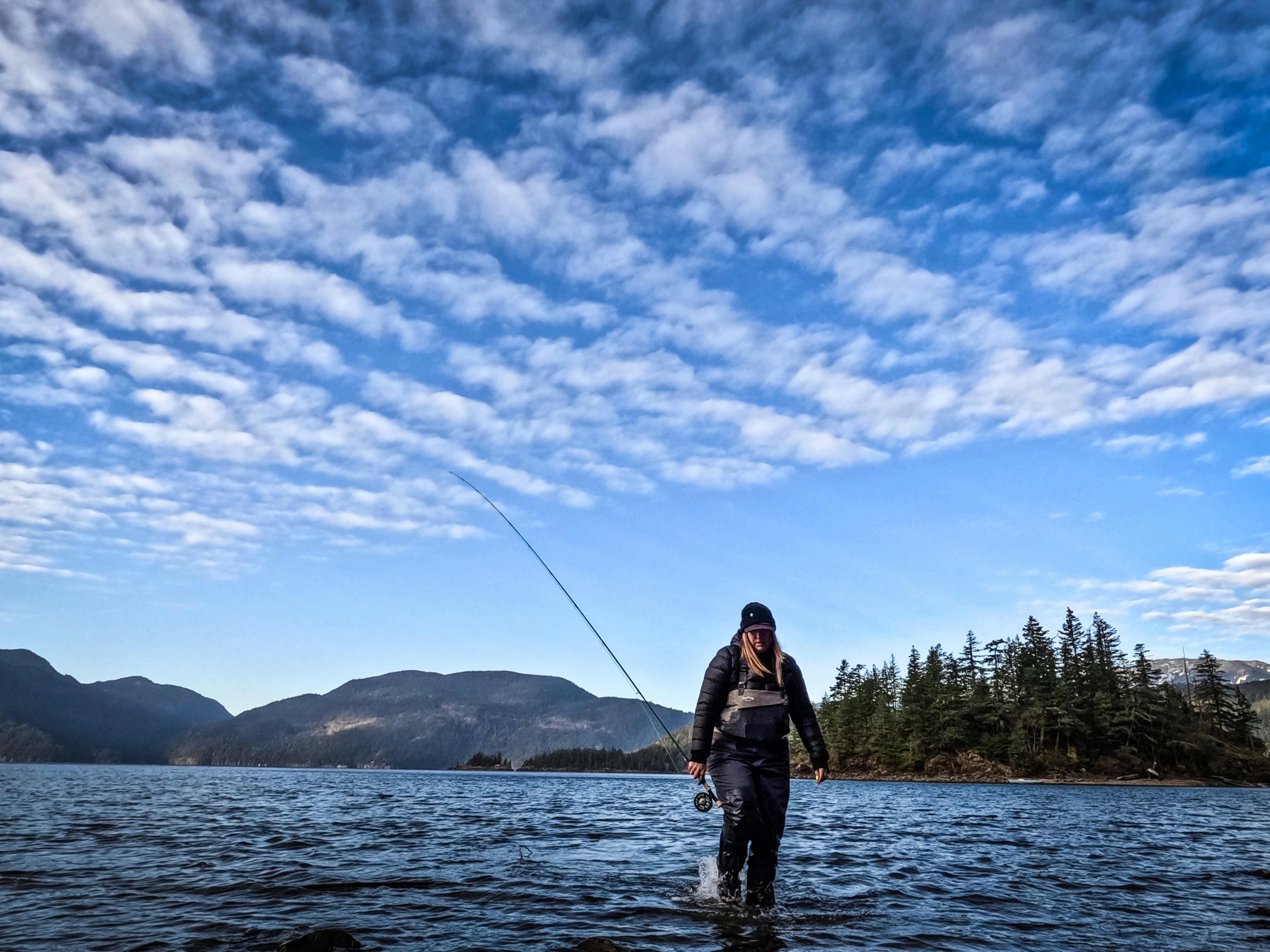 And so, with the bottomless feeling of loss, the act of fishing for me, became a mirror and a means of retrieving parts of myself along arguably one of life's loneliest journeys that is laid down for us to walk. 
In many ways, I honoured what my mum had lost so many years ago: access and mobility; both of which, to this day, I can't say I take for granted anymore. 
I could hike into lakes with my raft on my back, while my mind and body slowly healed. I could wade rivers, albeit with a few spills, while catching beautiful bull, cutthroat, brown, and rainbow trout in the crystalline of waters. 
In every cast, healing tugged on the line, either in bounty of fish or in the possibility of one. 
It was as if Mum's soul had melded into the trickle of every creek and tributary. 
The sound of this province's liquid heartbeat reminded me that healing could start at the water; and with casts, drawing breath to keep patiently processing loss one day at-a-time. 
By the end of summer, I had logged nearly sixty days of fishing and realized that fly-fishing had become as much of a practice for my well-being as it had also been, at times, a practice of hope and survival. 
There were many moments, in boats, rafts, and riverbanks when grief hung in the balance between the fore and aft of casts. 
I would wade continuously working a river, while accepting that grief was the anabranch to hope and meaning. 
In Stillwater I'd sit, almost in an 'indicator meditation', watching the round fluorescent messenger patiently while processing and calming the grief storm that had often consumed my thoughts and mind. The slight wind on the lakes allowing for an anchored position to lull my focus. 
I listened only to the quintessential tone of tiny waves colliding with the metal bottom of an Alumacraft: an angler's freshwater lullaby. Its trance-like tiny rocking was a continued reminder of when mum was no longer there to stroke my hair behind my ears as a child when putting me to sleep but could now, from afar, send hope of catching more fish in a long aluminum cradle of sorts. 
I realized that fly fishing and grief would house themselves deep in my veins together. A reckoning for every time I would release fish, watching my catch reunite with the sum of all things. 
But there was still another reminder of the intense, deep sadness of my mum's passing: Dad needed to get out and fish. So, with many of our adventures out on the water over the summer, fishing afforded us the sacred space of being able to talk about my mother. Telling stories, having some good cries in the boat, and spending time just cursing at the wind while we retied multiple flies and leaders. 
Upon the first anniversary of mum's death, the first of the month of February loomed. The innate knowing that I would need to fish that day, was unquestionable. Weather patterns showed a reprieve between typical Vancouver downpour days, and so, on a very rainy end of January, I pleaded my case to my dad for the need to get out and fish. I argued that sitting at home and replaying the events leading up to the hours we had left with my mum, didn't seem to serve us. 
Pity, party of two, would have to wait. 
We loaded the trailer, and with it, our little wooden pram boat. 
"What rods do we need?" Dad inquired, "I got all of them." 
"Sink, only" I replied, "this is a deep lake." 
And so, we packed minimally, expecting to freeze, and prepared for an early start at sunrise. 
Upon launching, the fog, deep set and moody, lifted in a matter of an hour as sunlight began to lay its warmth along the ridges of the surrounding mountain range that enveloped this beautiful reservoir. 
Our wooden steed cut through the glassy surface, its reflection no longer allowed either of us to know where water and sky began. This ethereal mirrored scenery helped me imagine what might be on the other side when my own eyes closed for the last time; I envisioned that when the world stopped spinning for both dad and I, maybe mum would be on the shore, waiting hear of our trout count or a retelling of an angler's exaggerated tale. 
Upon finding a great depth, and enough beeps off the finder; Dad and I, in syncope, began stripping line from our rods simultaneously in a renewed hope of catching. 
"For mum," I barely got it out of throat. 
Dad sighed, while the lines of our liquid swords cut the only path in the calmest of waters. 
"For mum," he replied.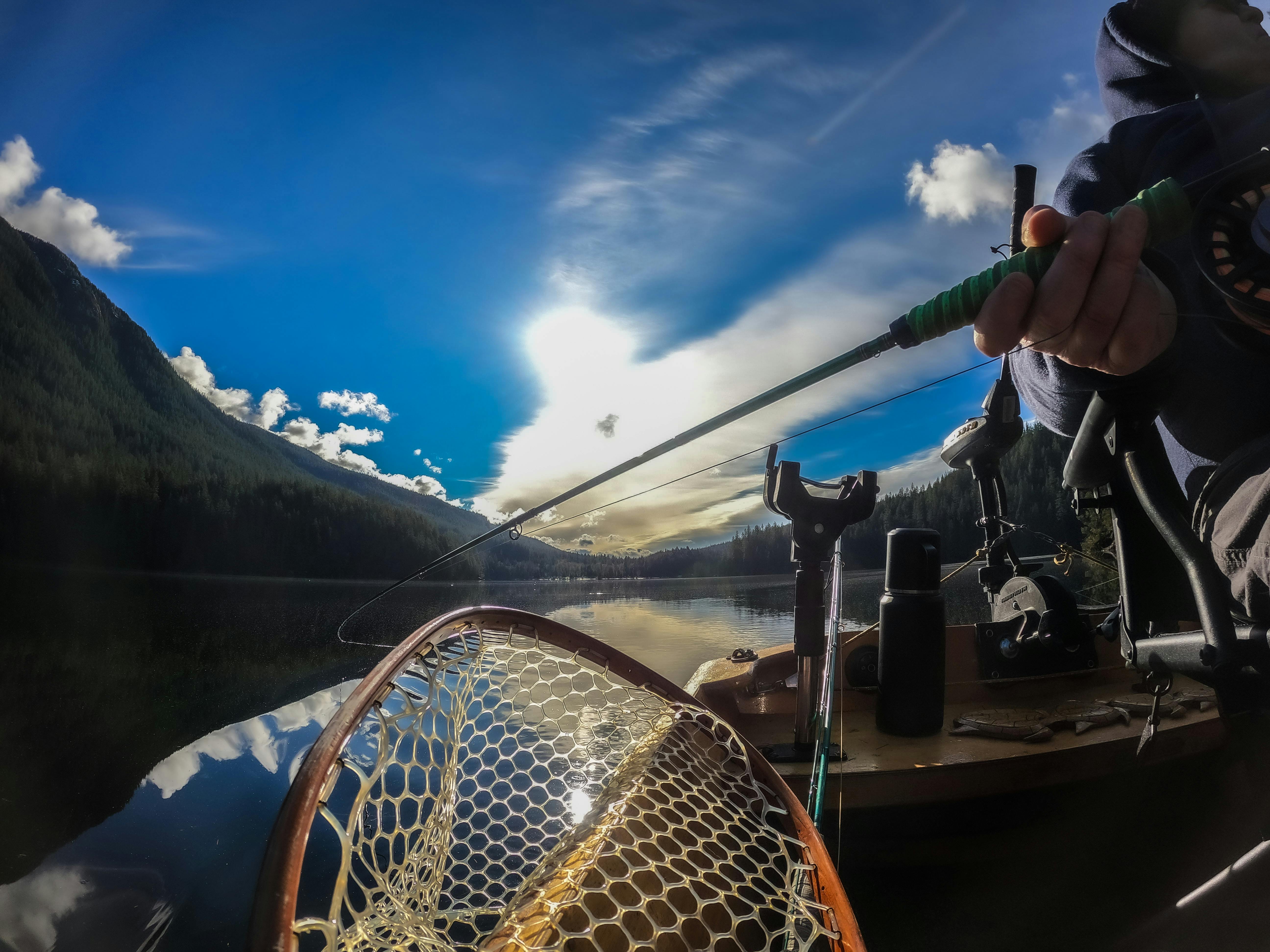 Work Referenced: 
Perry, B. (1927). Pools and ripples: Fishing essays. Little Brown. 
Dr. Katherine Mulski wishes to acknowledge that she has had the privilege to live, work, and  fly-fish on the traditional, ancestral, and unceded territories of the Coast Salish peoples of the Musqueam (xʷəәθkwəәy̓əәm), Semiahmoo (Semyome), Squamish (Skwxwú7mesh), Stó:lō, and Tseil-Waututh (Səәl̓ílwəәtaɬ) First Nations. She fly-fishes as many lakes as she can with her Dad and Bulldog Trout Associate, Nora. You can follow along on her literary and line casting journey on Instagram @kathonthefly