Silvercore Instructor Review - Veritac Global Training's Dismounted Small Teams Operation Course
On the weekend of October 26th, I participated in Veritac Global Training's Dismounted Small Teams Operation (DSTO) course.
Veritac is a Canadian company based out of British Columbia with operations in Latin America, East, and West Africa. They provide services related to the high-risk protection industry in both austere and non-permissive environments. The company also provides expert services in due diligence & investigations, executive protection (EP), tactical medicine, logistics, training & mentoring, risk management, kidnap & ransom (K&R) response, and human trafficking recovery. They also provide specialty training in close protection, tactical firearms operation and tactical medicine to government organizations such as law enforcement, Non-Governmental Organizations (NGO's), as well as the private sector.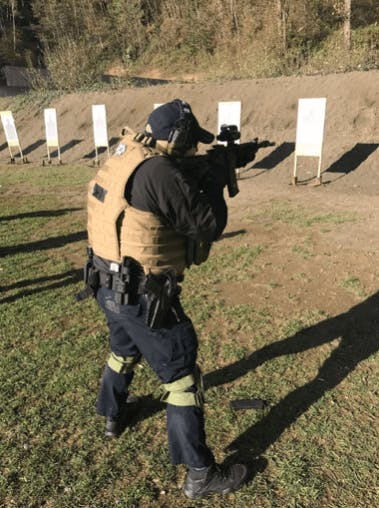 The company's training cadre are subject matter experts and, although many are former Canadian Armed Forces, including JTF2, they do draw from other sectors such as specialized policing and the private security industry. All of Veritac's trainers are actively involved in the close protection, risk consultancy, and tactical medicine industry.
As a long time firearms instructor myself, I have taken many training courses over the years from a variety of instructors ranging from basic to advanced training. What piqued my interest in this particular course was that it was more than just a shooting course: the session heavily focussed on the close protection element which meant working in a team, tactical medicine, disengaging, and movement skills combined with live fire. I have been interested in learning and practicing tactical first aid in a realistic context, rather than just learning online, and this course provided an excellent opportunity to do that!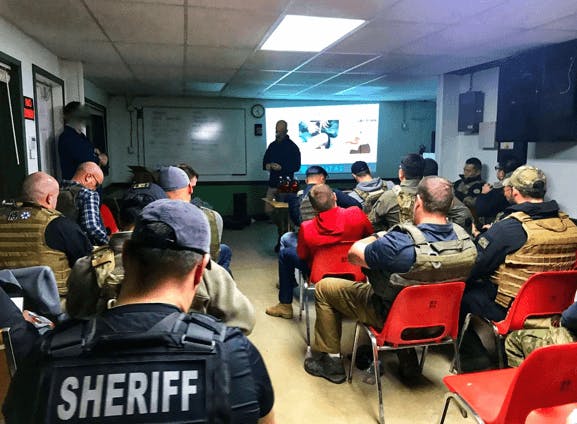 The first night began with a lecture format and PowerPoint presentation on tactical first aid. In this portion of the course, we covered many different phases of care. Stages of care covered were care under fire, tactical field care, tactical evacuation, the application of tourniquets, chest seals, and wound packing.
Some of these concepts were entirely new to me and some I had studied previously. The instructors explained both the information I already knew and the new ideas in a way that was easily understood by all.
The downsides of having to provide care were also explained, such as how good medicine is often in conflict with good tactics, which became even more apparent once practiced live. The remainder of the first evening was spent on the range learning and practicing tourniquet application and wound packing on ourselves and our buddies, skills that require hands-on practice. The props, including fake blood, used to practice wound packing demonstrated how intense it would be on a human.
Day two began similarly to the first. The day started with PowerPoint material and then moved onto a review of tactical medicine as well as some close protection concepts about team roles, formations, and essential terminology. Throughout the morning we were challenged continuously with tactical first aid skills as instructors would intermittently and without warning shout out injuries on ourselves or other classmates that we had to deal with quickly and correctly.
We then practiced dragging each other out of harm's way as well, which sure was fun with my 250 lb partner. I had the misfortune of dropping a handcuff key from my kit which also led to a punishment of several push-ups in full gear…being in half decent shape sure helped on this course!
Once on the range, we were given the opportunity to warm up and get some rounds down range. There was a mix of skill levels on the line so coaching was done to verify skills were adequate to continue with higher level skills. We continued to practice a mixture of live fire and blue gun practice of varying skills related to close protection, including the occasional call for self-aid or buddy aid. Tactical formations were practiced, breaking contact drills and bounding back to cover in a small team was the highlight of the day. Focussing on what you and everyone around you were doing mixed with communication and shooting was extremely fun and challenging. The combination of classroom and field practice was the perfect balance as we moved from the range to the classroom and back throughout the day.
The third day began with a lecture on close protection, primarily movement to and from locations – embussing, or getting into, and debussing, or getting out of, vehicles. Learning where to place vehicles and protection officers is paramount for success and highly dependent on resources and threat level. Some relevant definitions and terms, such as acronyms for team member responsibilities, were introduced or at least dragged out of my memory banks from previous training. Small but important details such as vehicle seating plans, advance teams, friendly forces at the debussing location, vehicle types and engines based on environment, the press and dealing with a VIP's habits and personality was also all brought up. A discussion of what each member of the protection detail should do with the principal during a hostile action and how to disengage and get away was the focus. It was abundantly clear that the instructors had a great deal of experience they were drawing from while teaching these topics.
Back on the range, we continued to practice all the skills we had learned thus far in the course. Practise included some individual movement drills and some live, but very safe and controlled, "man down" scenarios where we would have to break contact, bound back, perform care like applying tourniquets under fire, and remove casualties to cover. It was enlightening, scary, and challenging but all good to practice under stress to realize how chaotic and challenging real-life situations would be.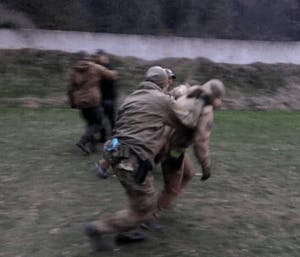 During the afternoon we practiced embussing and debussing with live vehicle drills where we would form teams and move a VIP to and from an advanced location. We did not do any live fire here, only blue guns, but it was still very informative. Unfortunately, as we had to drive on public roads we couldn't use live firearms (Canadian gun laws being what they are and some participants were not sworn law enforcement). Afterward, we ended up back on the range doing some live fire drills as the Primary Protection Officer (PPO) who had to respond to a threat, remove and protect his VIP while returning fire and engaging the threat while breaking contact. We continued doing some walking formations with a VIP to brush up on how fluid the formations had to be to keep up with a principal who was moving erratically and then responding to a threat. The day wrapped with more standard and advanced shooting drills with some extra coaching. When you have instructors at the level of Joint Task Force 2 – Canadian Special Forces, then why not use them to help students shoot better!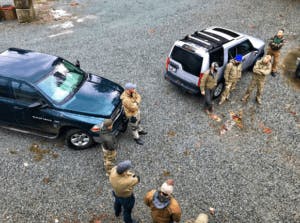 Regarding my impressions of the course, first and foremost I want to say that I thoroughly enjoyed every aspect of it. All the instructors were extremely knowledgeable and experts in their field. I particularly enjoyed the applied tactical medicine components as they are the newest skill I've been looking forward to learning and the most foreign to me.
The instructors' adherence to safety at all times and skill moderation based on the strength of the group showed real professionalism, which was great to see and considering the potential danger given the skill-set introduced, I never once felt unsafe. Despite long days, I never tired and would've loved to keep going despite three days of training, and I'm old… well over 40 anyway. I'll definitely do my best to try and take more training from Veritac!
I did have a few minor criticisms, however. Primarily that the larger class size included students of variable ability and skillsets, many of whom had well-entrenched training scars. With an instructor to student ratio of 1:5, the 24 shooters on the course were adequately monitored. Even then, the variable skill sets represented in this course's demographics led to a bit of lag time between drills – as instructors needed to ensure learning had occurred and they addressed bad habits.
Due to the class composition-based wait times, I probably consumed about a third to a half of the requested minimum round count and had brought much more than the minimum just in case. This is the nature of open enrollment classes. Veritac does offer closed enrollment courses to the military, law enforcement, and security industry professionals although not advertised on their public-facing website.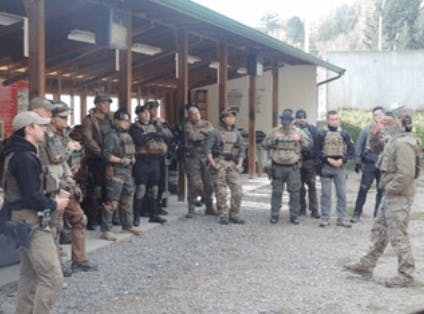 All criticism aside there were very few things to complain about. The course was enjoyable, exciting, and relevant to not only close protection but also to personal security skill development and advanced firearms manipulation.
Instructor, Silvercore Advanced Training Systems