Silvercore Mexican Night Recipes
Mexican Pickled Red Onions
– 3 medium red onions
– 1 cup freshly squeezed lime juice
– 3 tsp sea salt
– Mexican dried oregano
– 1 tsp dried ground ancho pepper
– Optional: pinch or two of sugar
Method: 
Thinly slice red onions into half-moons and put into a non-reactive bowl. Pour boiling water over top and press onions gently down so that they are submerged. After about 30 seconds, strain the onions and place back into the non-reactive bowl. Sprinkle sea salt, oregano and ancho pepper over onions and stir to combine, then pour lime juice over onions.
Stir every five minutes for the first 30 minutes to ensure that the onions are exposed to the lime juice and no pieces are left un-pickled. After about 45 minutes, the onions will take on a brilliant pink colour and be nicely crunchy and pickled. If the onions are a bit too harsh at this point, a pinch or two of sugar can help. Place the onions and juices into a glass jar and put in the refrigerator. They should keep for a week or more.
>
Grilled Corn Salad
– 6 cobs fresh corn
– 1 1/2 cups black beans
– 1/2 cup Mexican crema. Alternatively, creme fraiche, sour cream thinned with buttermilk or mayonnaise
– 1 small charred white onion
– 2 finely diced jalapeños, you can remove the seeds to minimize heat
– 1/2 cup cilantro, roughly chopped
– Lime juice, to taste. The amount will depend on if you use mayonnaise, sour cream, buttermilk, or crema
– Sea salt, to taste
– Chilli powder. Whatever type you have on hand and like, I prefer a guajillo, pasilla or ancho but use what you like, again season to taste
Method: 
Cut a small white onion into quarters, being careful to keep the root intact to that the onion holds together at the base. Do not remove the outer skin, roots, or top as it will hold the onion together and protect the flesh. You can grill the onion pieces over a grill or broil in an oven, keeping an eye and moving it around so that all sides get a bit charred but not ashy. Once the onion is nicely charred, remove and place in a bowl with a piece of saran wrap on top to allow the onion to steam a bit to cook through fully.
Shuck your cobs of corn and place on the grill. Corn will cook quite quickly, so move around so that all sides get a bit of char but again, not too blackened. Be careful as the kernels can occasionally explode over a hot grill. Once the corn has turned a deeper yellow and has beautiful grill marks, remove and set aside to cool a bit.
Once the onion and corn have cooled a bit, you can remove any outer leave of the onion and dice into small pieces. Cut the kernels off of the cobs of corn and place both the corn kernels and diced onions into a bowl. Add the remaining ingredients and stir to combine, taste and adjust seasoning if required.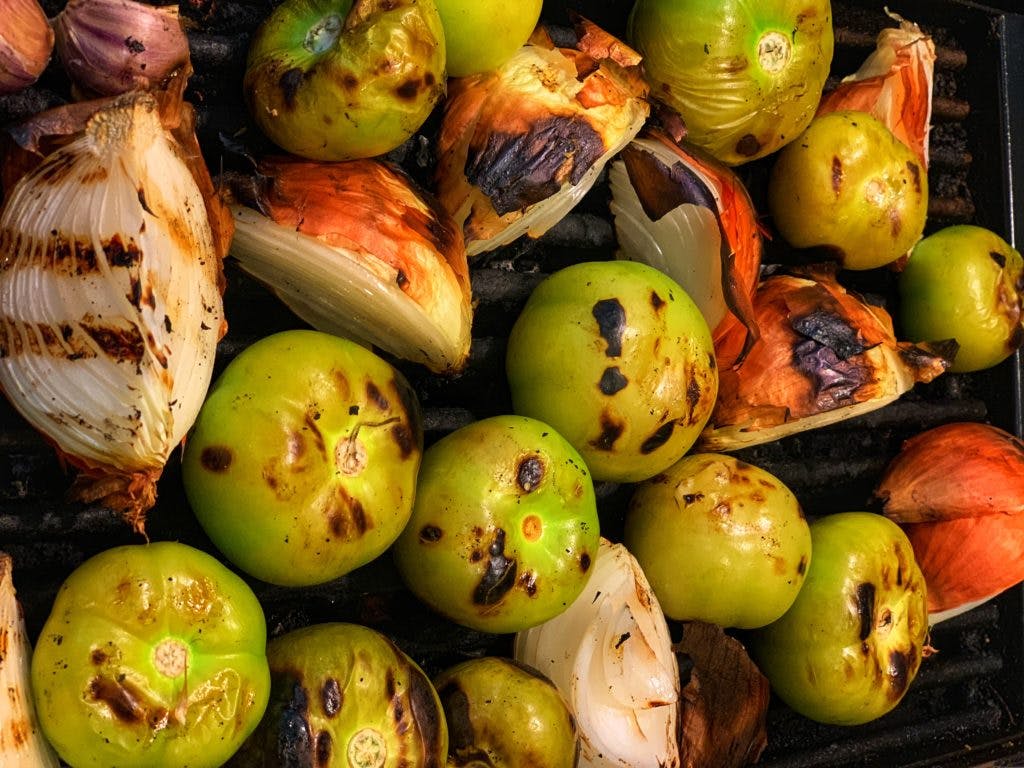 Chipotle Chicken
– 5 lbs chicken thighs
– 4 tbsp chopped garlic
– 1 can of chipotles in adobo sauce
– 1 tbsp dried Mexican oregano
– 1 large chopped onion
– 1 tbsp sea salt
– Olive oil. The amount depends on the size of your cooking vessel, roughly 1 cup should be enough
Method: 
Combine the garlic, chipotles and adobo sauce, oregano, salt and chopped onion in a container large enough to accommodate the marinade and chicken thighs. Mix up all the ingredients and break apart the chipotles a bit. Add the chicken thighs and stir to combine. Put in the refrigerator for a minimum of 4 hours, but overnight is better.
Place marinated chicken into a deep baking dish (lasagne type pan works perfectly). Add the marinade to the pan as well. Pour olive oil on top and put in the oven for three hours.
Remove chicken and push the flesh with a fork; if it breaks apart easily, it's done. Set aside and let cool slightly. When cooled, pull the meat off the bones and shred slightly. Strain off the excess fat and use some of the braising liquids to mix back into the chicken meat. You don't want it too wet, as it will make your tacos a bit sloppy – you are looking just to keep the meat moist and a bit saucy.
>
Guajillo Chili Sauce
– 4 large garlic cloves or 6 smaller ones. Keep the skin on
– 15 dried guajillo chillies (can use pasilla)
– 1/8 tsp toasted cumin seeds
– 3 cups good chicken stock
– 1 tsp sea salt. You may need more depending on salt in chicken broth
Method:
Gently toast chillies in a cast iron pan or over a grill, being careful not to burn the flesh. Cut open with scissors and remove the seeds and stem. Pour boiling water over the chillies and set aside to hydrate for 20 minutes. Roast the individual garlic cloves gently in a dry cast iron pan or over a medium heat grill. Move the cloves around, so they don't burn. This should take about 15-20 minutes to cook thoroughly. The flesh tends to explode a bit out the sides when it is done. Toast the cumin seeds for about a minute or until fragrant in a dry cast iron pan.
Remove papery skins from the cooked garlic cloves and place in a blender. Add rehydrated chillies, cumin seeds, 2 cups of chicken stock and sea salt. Blend until very smooth. Heat up a non-reactive frying pan or saucepan and strain the chilli mixture into the hot pan. Stir while it bubbles and cooks and turns a brick red colour. If it's too think, add the additional cup of chicken stock. Allow to cook over a medium heat and reduce for about 30 minutes adding additional stock or water if too thick.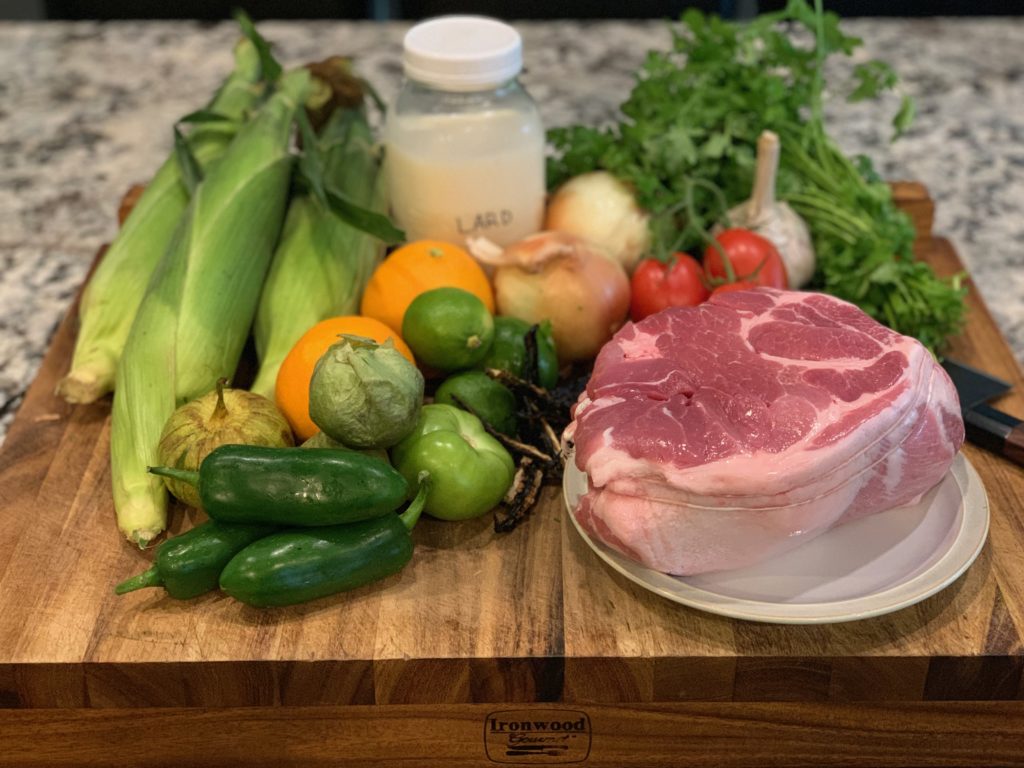 Tiffany Bader
Silvercore Inc.