Silvercore Club Shoot 2019 - Our Huli Huli Chicken Recipe
A huge thanks to all of our industry supporters and sponsors, attendees and Silvercore staff for another fantastic event at The Vancouver Gun Club.  Based on the number of comments we received during and after the event, we're guessing our version of Hawaiian "Huli Huli" chicken was a hit, and we are so happy that it was!
For those of you that would like to make it at home, here it is.  Beware, it's a labour of love, but completely addictive – so put on some Israel "IZ" Kamakawiwo'ole music, sip on something cold, and have fun.
Silvercore's Take on Hawaiian Huli Huli Chicken
2 whole organic, free-range chickens – cut into pieces, or leave whole
Brine – recipe below
Rub – recipe below
Sauce – recipe below
Charcoal grill, tongs, sauce bowl
We brine our chicken, cover in a spice rub, grill over good quality charcoal, and then sauce it at the very end.  Once the chicken is almost done (cooked through and most of the fat rendered), we dip the chicken in the sauce and place back on the grill to allow the sauce to adhere to the meat, and caramelize.  The sauce has a high sugar content and will burn if you sauce it at the beginning of the cooking process, so we find this helps prevent that.
Chicken Brine
16 cups of water
3/4 cup kosher salt
2/3 cup white sugar
2 heads garlic crushed
large handful of fresh sage leaves ripped and crushed
1/4 cup dried basil
4 tbsp whole black pepper
5 bay leaves
Put the water, salt, and sugar into a pot and bring to a simmer.  Stir well to dissolve the salt and sugar and add the remaining ingredients and set aside to cool.  Once the brine has cooled, add your chicken and place in the refrigerator for up to 12 hours.  Make sure to place the brine and chicken in a non-reactive pan (not aluminum), we usually use a food-safe bucket or large stainless steel stockpot.
When you remove your chicken after it's been brined, give it a good rinse in cold water to remove the herbs and pepper and remove the excess salt.  Place your chicken on a baking rack and proceed to the chicken rub step.
Huli Huli Chicken Rub (Makes Extra - Use it the Next Time you are Making BBQ Chicken)
Ingredients:
1/2 cup garlic powder (not garlic salt)
1/2 cup sea salt
1/3 cup sweet paprika
1/4 cup onion powder (not onion salt)
1/4 cup cumin seeds, ground – if you lightly toast in a frying pan on the stove first the flavour is infinitely better
1/4 cup ground black pepper
Add all ingredients to a bowl and mix to combine.  Sprinkle liberally all over the chicken after it's been brined and rinsed and place back into the refrigerator for at least a couple hours and up to 24.
Silvercore Huli Huli Chicken Sauce (Makes Extra, But You'll Thank us Later)
Ingredients:
1 cup brown sugar
1 cup soy sauce
1 cup ketchup
4 cups pineapple juice
1/2 cup sherry or cider vinegar
2″ piece of fresh ginger, finely grated
1 head garlic, minced
4 tsp roasted sesame oil
4 tsp worcestershire sauce
4 tsp sambal oelek (to taste)
Method:
Add all ingredients to a pot and reduce by 1/3, taste, and adjust at the end to taste.  As mentioned above, wait until the chicken is fully cooked and then dip the chicken into the sauce. This will help prevent burning the chicken as the sauce has a relatively high sugar content.
Once the chicken is cooked and looking delicious with most of the fat rendered off and beautifully caramelized skin, set aside to rest for 10 minutes so that the juices can redistribute in the meat.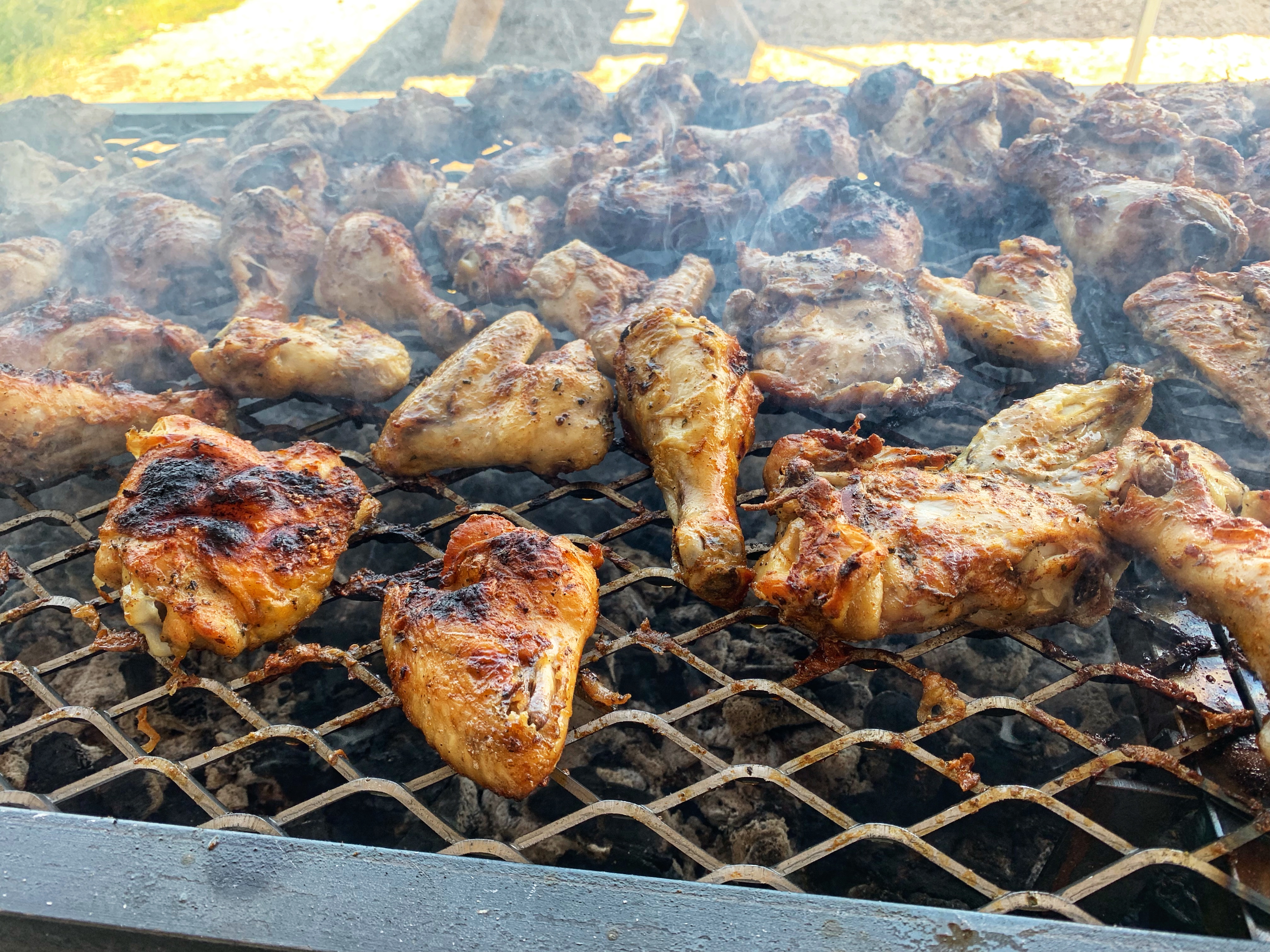 Tiffany Bader
Silvercore Inc.