Smoked Turkey Legs Recipe Using the Bradley Smoker Professional P10
This recipe is a bit of a riff on the big, juicy turkey legs you get at Disneyland, but way, way better.  These have a smokey, lip smacking deliciousness that are completely addictive.  I've developed this recipe to be used with wild turkey, but you can use farmed turkey, chicken or any wild upland game birds.  The smaller birds will need less time in the brine and likely less time in a smoker.
To ensure that the flesh stays super moist, I brine the turkey legs overnight.  Brining really elevates this dish, and it's a pretty standard brine recipe I use for a similar weight of whole turkey at Thanksgiving and for Huli Huli chicken.  I usually just adjust the spices used in the brine, depending on what the protein is and how I'm feeling.  It's very customizable, so use what you like and what you have and feel free to experiment.  If you were using chickens, the brine would be an appropriate quantity for two whole birds.
I am using a Bradley Smoker Professional P10 to smoke these turkey legs and remember that if you would like to get one of these amazing smokers for FREE, you just need to be an active Silvercore Club member. Check out our post here for more details, and do it soon, one lucky member will be selected at the end of July.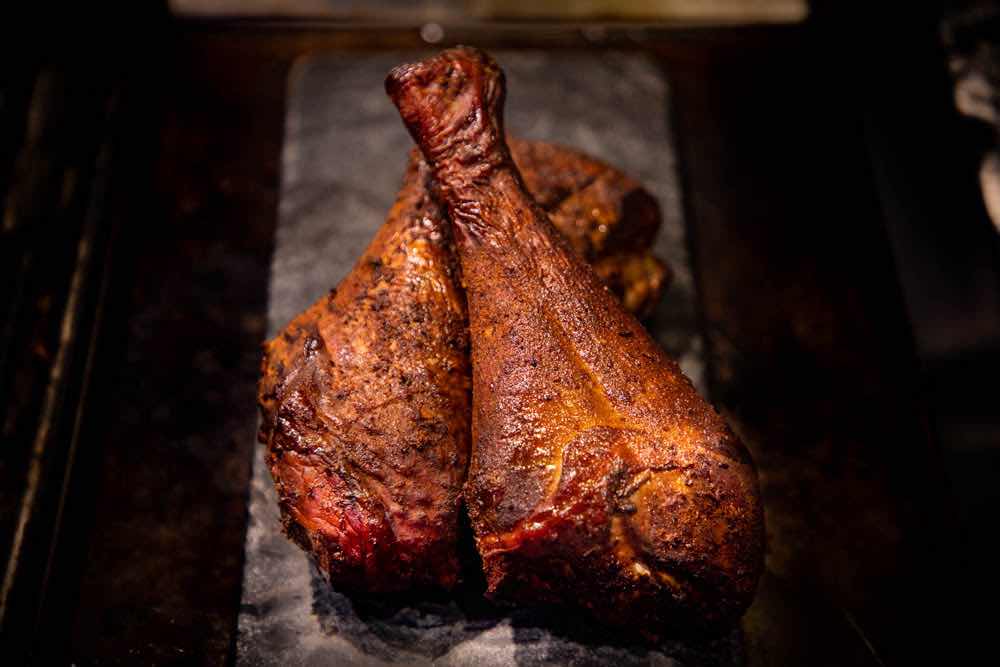 Brine Ingredients:
1/2 (2L) gallon water
1/2 (2L) ice
1 cup kosher salt
½ cup brown sugar
6 whole cloves garlic
1 medium onion chopped 
3 tbsp of fresh thyme leaves
12 leaves of fresh sage
1 1/2 tablespoons of whole black peppercorns
1 teaspoon whole cloves
1 teaspoon whole allspice
1 tablespoon paprika/cayenne pepper if you prefer it hotter
Method:
Boil 1/2 gallon (2L) of water into a large pot. Once the water has come to a boil, turn the heat to low and add in the other ingredients.  Stir well to dissolve the salt and sugar and after dissolved, turn off the heat and set aside to infuse.  After ten minutes add the ice to chill your brine.  At this point you can add your turkey legs to the brine and leave in the fridge overnight.  
In the morning, pull the turkey legs out of the brine and give a quick rinse in water to remove the aromatics that are likely stuck to your turkey.  Pat dry with a paper towel and put on a baking rack.  When you are ready to smoke your turkey legs, pull out of the refrigerator about an hour before so that they can come to room temperature. 
While the turkey legs are coming to room temperature, you can set up your smoker or grill and get it warmed up and smokey before putting the turkey legs on.  If using a Bradley Pro smoker, the set up couldn't be easier. Set the temperature to 160F, timer for the smoker to 4 hours and the timer for the heat to 4 hours.  After two hours at 160F turn up the heat to 180F.  Again the temperature probes on the Bradley Pro will make your job super easy and you can just press the probe buttons to confirm internal temperature of your turkey legs.  If you don't have this awesome smoker, just smoke until the exterior is deliciously dark brown and the internal temperature reads at least 165F.  My turkey legs took about 4 hours to slowly smoke, but if yours aren't quite ready yet, just leave them on a bit longer and if you are impatient, you can always pop them in your oven at 225F to bump them up into the fully cooked zone.  
Let the legs rest for at least 10 minutes to allow the juices to redistribute throughout the meat.  They are delicious as is, or you can use them as a base for an unbeatable smoked turkey soup.  
Tiffany Bader