Maintenance, Rental and Testing Service
Maintenance, Rental and Testing Service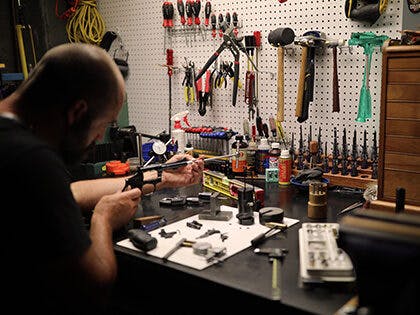 Our company employs factory certified armourers, technicians and gunsmiths to provide a full range of maintenance and repair services – anywhere in Canada. All work is done right the first time in a prompt and efficient manner to accommodate your busy schedule.
To minimize downtime and ensure 100% operational readiness, Silvercore can offer on-site repairs as well as replacement equipment (including firearms). Please provide us with sufficient notice if any replacement equipment is required.
Areas of Specialty Include
Firearms Repair and Maintenance Programs
Destruction of Firearms and Ammunition
Equipment Testing and Rental
Design and Construction of Custom Training Equipment
Range Inspections and Maintenance
Firearms Removal
And More...
Equipment and Controlled Goods Testing
Silvercore has many years' experience in testing equipment and firearms, for law enforcement agencies and licensed businesses. Having your equipment tested by our experienced technicians can be a time saving alternative to performing them in-house. All testing services include a full test and performance report, including recommendations. Our business is fully licensed through the RCMP, allowing us to perform repairs and testing services on all your agencies Non-Restricted, Restricted and Prohibited category equipment, including tasers and suppressors. For more information, please contact our office today.
Rental Services
We offer a number of firearms and equipment rental services to licensed businesses and agencies, or organizations with licensed employees. To ensure all safety and legal requirements are met and exceeded, strict rules and policies are in place for all rental services.