The World's Best High-End Rifle Scope
On and off, I have competed in precision rifle events since my pre-teens. Coming from pretty humble finances, as in barely enough money to put food on the plate and still make rent, I have been proud to pull off some noteworthy results with a fairly meagre kit. In my early twenties, I distinctly recall my excitement as I entered in the BC sniper competition held on Vokes Range, which was open to military, law enforcement, and active members of the British Columbia Rifle Association. I didn't have a rifle or scope, but I figured I had time to sort that out and I didn't want to lose out due to the event being booked at capacity.
Days later, I was able to find a poorly sporterized P14 rifle at a gun show in Kamloops. The receiver was ground down and uneven, it wasn't drilled and tapped for scope base, the stock looked was made from a chunky monstrosity of laminated woods with a big gouge cut out for the bolt to be removed, but it had a thick aftermarket barrel on it and that piqued my interest. The seller explained that it did not fire, but for $100 this beauty was all mine. I was always told that you should spend as much or more on optics as you have on your rifle and that left me with $200 to purchase a Bushnell Elite 3200 scope with a mil-dot reticle and target knobs.
One week prior to the competition, I removed the barrel, re-crowned and head spaced, levelled and drilled/tapped the receiver, and did a trigger job on the rifle. It was able to set off primers in my shop, so I had a couple days to sight in and practise. At the Mission Rod and Gun Club, many eyebrows were raised and the owner of V-Bull Precision, the late Ed Begg, invited me to try one of his rifles to compare mine to. His was an Accuracy International with a Schmidt and Bender scope, my dream gun. After shooting it, and showing it the due care and respect owed, Ed said, "Why don't you take it home and practice with it? I can get it back from you at the competition's completion." I was blown away by his generous offer, but declined as I wanted to see what my "rig" could do, and I also knew I would never be able to repay him should anything happen to his rifle.
Day one of the competition, laughs broke out when people spotted my ugly stick, along with a few well meaning "I guess we all have to start from somewhere" comments. By the end of Day 2, I'd gained a certain level of respect from scoring as well as I did with so little. I've always been a very firm believer in the quality of one's training and mindset being of greater importance than the quality of their kit, and this event proved it.
But there is a point when a quality kit can really set a marksman apart. That competition at Volkes Range had nearly ideal conditions on Day 1 and a pretty hot Day 2. At a BC precision rifle event a number of years later, there was a monsoon, and a number of competitors simply couldn't see their target anymore due to fogging (in some reputable brand scopes), which made the decision to invest in a quality optic clear.
In ideal conditions, the playing field for quality scopes can be somewhat level. But if you want to be confident that your kit will work at the highest level in all conditions and environments, investing in a Tier 1 optic becomes a priority.
Fast forward a few years later, funds had become more available for me and I was able to horse trade for better equipment, so I embarked on a quest to put together a robust rifle and scope combination that would meet all my needs regardless of pouring rain, freezing temperatures or rough abuse on the mountainside.
Over my lifetime, I've had the privilege of owning US Optics, Schmidt and Bender, Zero Compromise, top line Vortex and Leupold scopes, as well as extensively testing Zeiss, Nightforce Hensoldt, Steiner, and Kahles. I figured I had a pretty decent grasp on what the scope market had to offer. That was when ILya Koshkin, better known as "The Dark Lord of Optics," stepped into the picture. ILya is an optical physicist with several patents to his name and has a no-nonsense approach to his profession and life in general. I have a good deal of respect for his strong character and courage in speaking the truth. Chatting with him on Episode 69 of the Silvercore Podcast, he explained, "You Canadians should be proud. The absolute greatest depth of field in any rifle scope goes to your Tangent Theta 5-25x56." This piqued my curiosity and, off-air, ILya and I spoke further about this benchmark-setting Canadian company. Armament Technology Incorporated, or ATI, is the manufacturer of Tangent Theta, and they have made it their mission to create the world's best rifle scope. Like Mercedes Benz, they set out to make the best, refusing to be hobbled by budgetary constraints, and then, once they were happy with the product, work backwards to set the scopes price. Rest assured, you are getting the absolute best this leading-edge company can produce, but there is a price tag reflecting that high level of quality.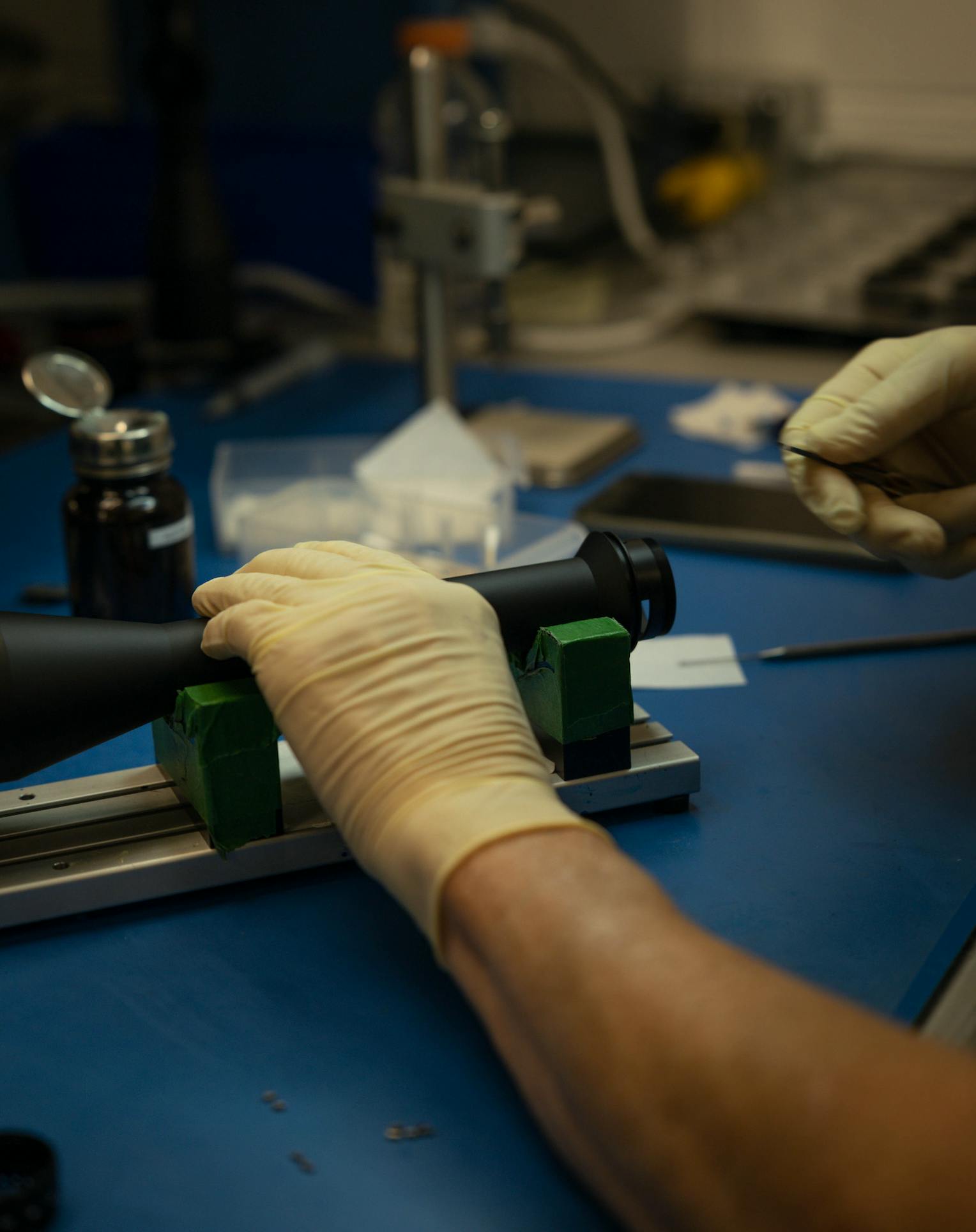 Tangent Theta intrigued me. Also, the stories I'd heard about the company and its owner sparked my entrepreneur sensibilities. The owner, Andrew Webber, founded ATI in 1988 and he was building custom rifles based on the Remington 700 action for local law enforcement as well as to agencies in Boston and Winnipeg. Andrew was an active competitor in service rifle and a six time national champion in precision rifle. While competing at Connaught in a service rifle competition, a colonel approached Andrew and asked why his Elcan C79 stop did not exhibit the same issues that the others were seeing. 
"Simple," says Andrew, "my company ATI corrected those issues." Fast forward to numerous tests and meetings, and ATI won the contract to refurbish or replace 65,000 C79 scopes for the Canadian military.
And while that story of success is impressive, what I found even more remarkable was some news that ILya recently shared with me. Despite ATI's success and Andrew's position in the company, when one of his staff went on maternity leave, he sat on the assembly line for several months to ensure the job continued to be completed at a high level.
I was determined to see firsthand a scope and company that ILya had spoken so highly of. I purchased a ticket to Halifax, brought some cameras and audio equipment, and met with ATI's VP of Sales Trevor Publicover as well as David Sanderson, Andrew Webber, and the rest of the ATI crew. Sitting down for dinner with Trevor and David, I was struck by the sense of pride the staff had in their company and the respect they shared for each other. To say that this felt like a close-knit family company is an understatement, and it was something I did not expect from an organization responsible for fulfilling large contracts worldwide.
After factory tours followed by product testing at the range, I witnessed their team working hard on manufacturing and assembling Tenebraex scope covers and anti-reflection devices. I saw impressive SAI Optics, which some have dubbed the Japanese-made Tangent Theta. The SAI scopes are manufactured with the same attention to detail as Tangent Theta, but made overseas, with different materials, and at a lower price point. Finally, I got a detailed tour of what ATI does to produce their high-end Tangent Theta line. This really impressed me.
ATI has developed specialized machines, specifically made to rigorously test Tangent Theta and to push optic limits beyond their already high benchmark. To avoid fogging, every Tangent Theta scope is subjected to a rapid negative and positive pressure change of several atmospheres to simulate extreme altitude change or submersion. The scopes have to operate flawlessly in all climates and ATI tests them from -55 to +85 C, conditions most scopes will never see outside of their facility. Every scope is strapped into their drop test machine and subjected to a whopping 1000 g of gravitational force 1,000 times. Every reticle is levelled with near absolute accuracy and their turrets and magnification rings are tested on machines designed to simulate more use than most scopes will ever see in their lifetime.
I want to return to the turrets for a moment, because that's an area in which the Tangent Theta really shines as ATI prides themselves on having the "clickiest clicks" and, despite the funny description, it is apt. ATI showed me the proprietary way that they ensure the turrets have absolutely positive and repeatable clicks and the machine that will test the turrets proving they can easily sustain over 30,000 revolutions (4.5 to 6 million clicks depending on MRAD vs. MOA). With Tangent Theta, you can be confident that every time you dial elevation or windage it will return to the exact same point of impact.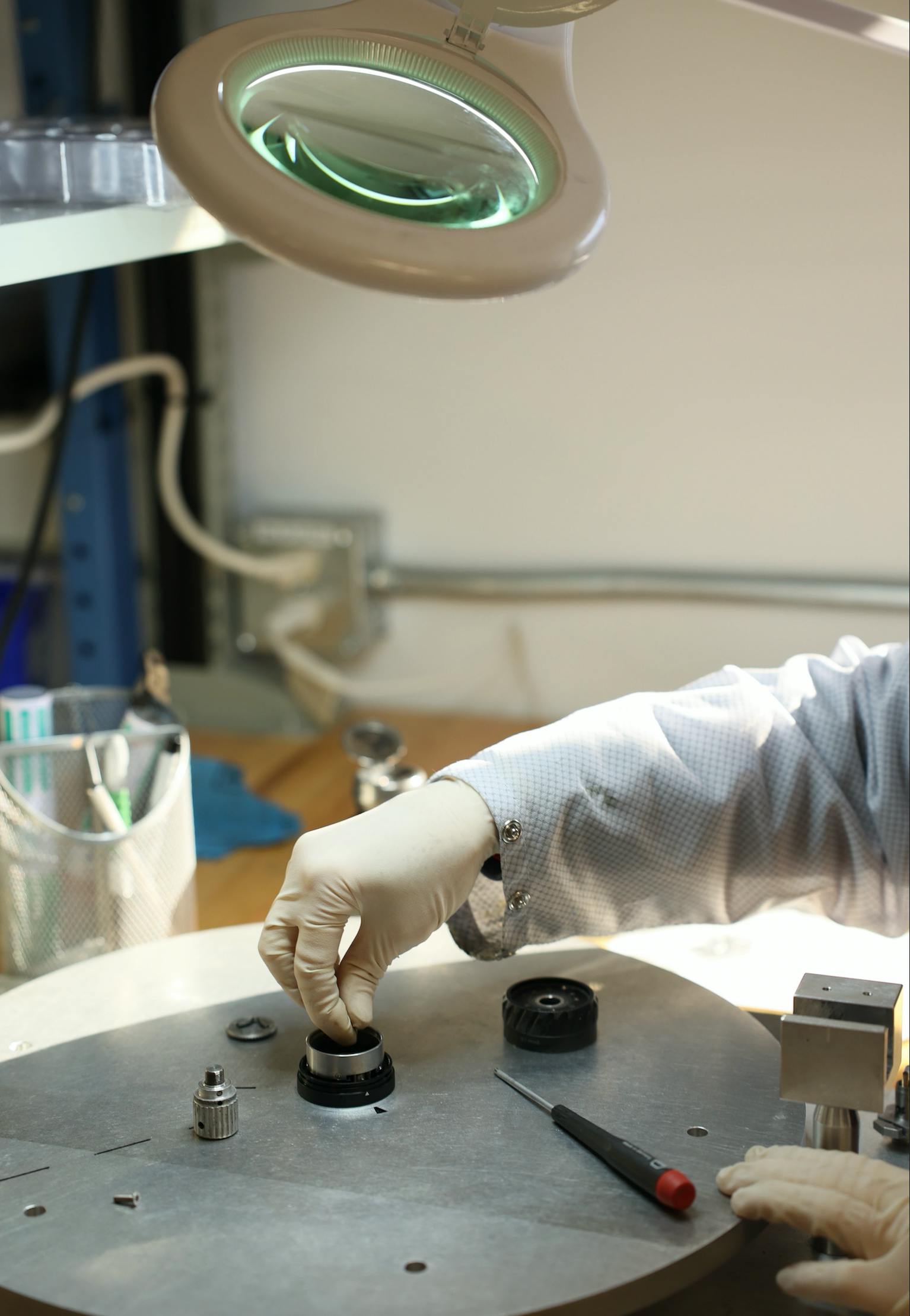 I watched as these scopes were hand assembled by skilled craftsmen and got to see firsthand the Class 100 clean room—a space with fewer than 100 particles larger than 0.5 microns in each cubic foot of air space. The first thing that struck me was the increase in the relative warmth and humidity in this area, which makes sense, as humid air is less likely to have dust particles floating around in it.
Given these stringent tests, it was no surprise that ATI doesn't have a warranty department— they don't fail enough to require one. If warranty work is ever required, your scope will most likely be worked on by the person who built it for you.
Everywhere I went in ATI's facilities, I could see the evolution of the company and the hallmarks of a multi-talented owner. From the antique theodolite and optics on shelves, to state of the art optical imaging and testing devices. There were trophies and memorabilia which showed ATI's humble beginnings to fishing rods and lures which spoke to the passion for outdoor pursuits that this maritime company held dear. Where some companies focus on marketing and brand awareness, it was clear to me that ATI has invested heavily in their company culture and the happiness of their co-workers as a bottom-up approach to producing the absolute finest in rifle optics and accessories.
After learning all this, I really wanted to see how the scope performed, so we drove to the Nova Scotia Rifle Associations Bull Meadow Range Complex. The range allowed for testing up to 800 metres and the conditions were a chilly -10 C. We set up a couple of targets, one to sight in and another to test at varying distances. David set up a neat auditory impact locator on the target that communicated with an iPad and showed our hits. Both David and Trevor are accomplished marksmen in their own right, and David has a military background as well as a competitive precision rifle series background to further elevate ATI's knowledge base.
Getting behind the glass was an absolute treat. Optical clarity can be subjective, but I can tell you that regardless of what you hold as a standard for excellence in clarity, Tangent Theta delivered. This was especially noticeable when looking in shadows and the entirety of the image produced a pleasing contrast that allowed the eye to detect targets easily. Once zeroed, it was amazing to see the tool-less re-zero in action. Simply loosen the turret cap by hand, set to zero, and tighten. Your zero and zero stop are now set. A simple and brilliant design. Moving between targets, the scopes held true to their "clickiest clicks" promise and adjustments were tactical and repeatable.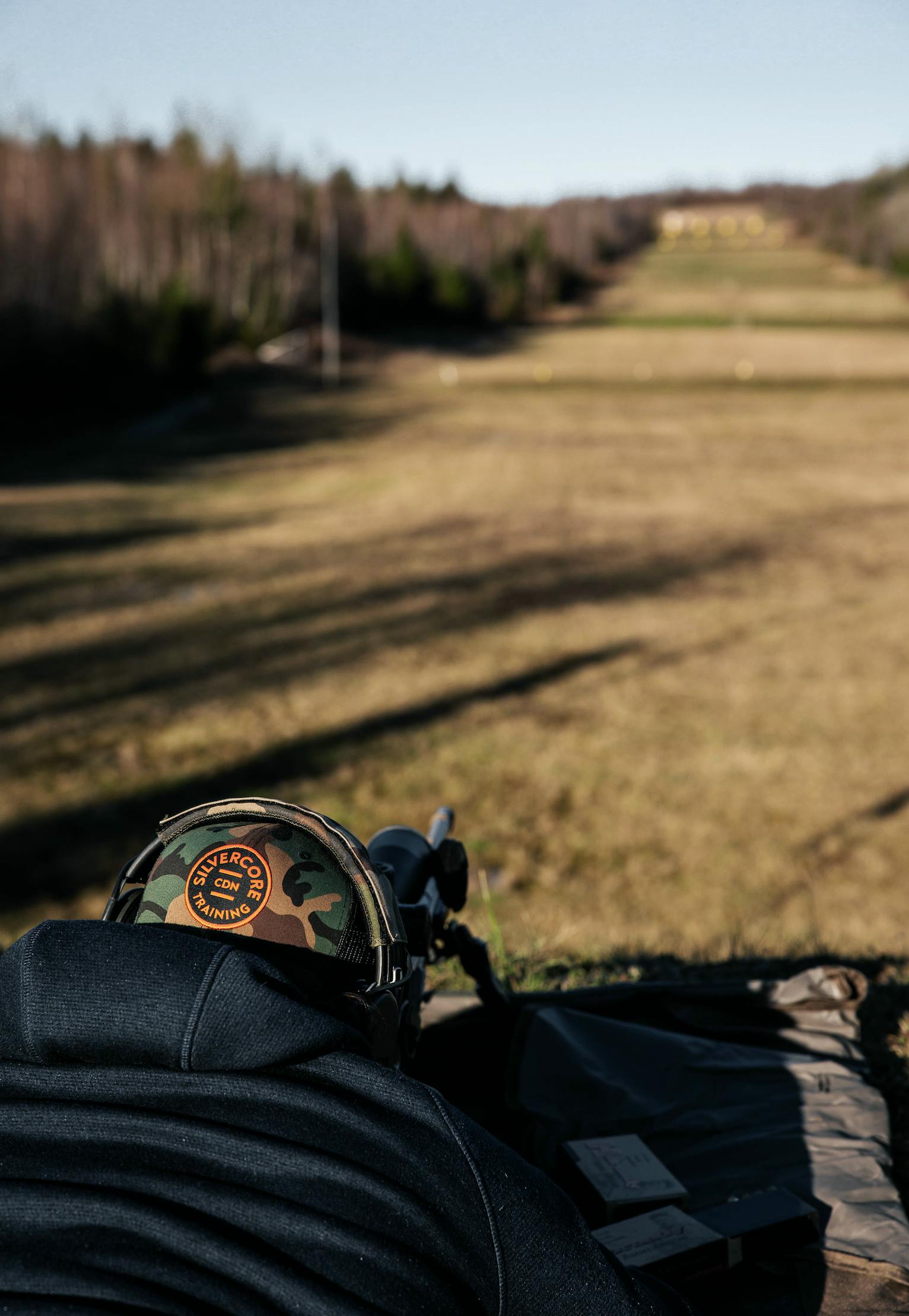 Illumination on the scopes was well designed and exactly where I like to see it. The intensity is adjustable and not overly bright, and perfect for low or limited-light shooting. When ILya spoke of the depth of field, he wasn't kidding. While I found myself playing with the parallax, I did so mainly out of habit and to put the scope through its paces. I was able to shoot from varying distances and very little, if any, parallax adjustment was required.
On doing internet research, really the only thing I could find that people would nit-pick was the reticle options. Personally, I quite liked the Gen 3XR fine and David said he had moved to the JTAC for his PRS shooting. All of the reticle offerings by Tangent Theta are proven and excellent,   but people can get very attached to their reticle of choice, even more so in the online echo chambers which can sometimes have an almost cult like following. Ranging and holdovers can be accomplished with even meagre reticles if you know the measurements and how to use them, but there is always the quest for the perfect reticle.
In a way, providing advice on reticles can be like recommending the best boots for someone to hike in. Subjective personal preference comes into play, and what's best for me may not be best for you. Knowing this, I remain confident that anyone who purchase a Tangent Theta reticle will be extremely happy with it. ATI has ever-expanding reticle options to meet the needs and desires of all discerning marksmen.
With the range day done, Trevor and I went back to ATI and recorded Silvercore Podcast Episode 90: The Rolls Royce of Rifle scopes. If you are interested in learning more about ATI, their company ethos, manufacturing practices, and attention to detail, I highly encourage you to give it a listen.
Travis Bader
Silvercore Inc.
>
For more information, check out the links below:
Armament Technology on Facebook
Armament Technology on YouTube
Armament Technology Incorporated on Linkedin
Armament Technology on Twitter