Hunting | Outdoor & Recreation
Shed Hunting with Steven Drake (Online)
Renowned shed hunter, Steven Drake, teaches his secrets to finding shed antlers. Whether your goal is to shed hunt for money or simply decorate your house, this class is for you.
Overview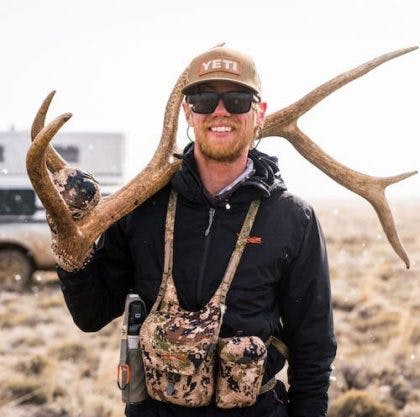 Steven Drake
Steven Drake is a professional hunting photographer and shed hunter. He spends a major chunk of the year scouting some of the most rugged and physically demanding areas in North America. Steven's passion and experience finding shed antlers (also known as cast antlers) have helped to make him a better hunter and outdoorsman, as well as an exceptional teacher.
In this mind-blowing class, Steven shares over twenty years of experience. He covers everything from where, when, how, and why to find antlers, to what you'll need to pack for your trip, ethics, trade secrets, how to sell to buyers and more.
Content created by renowned expert, Steven Drake.

Train from the comfort of your own home. Compatable with tablets, smartphones, laptops and desktops.

Study whenever and wherever you are, and review the course material as many times as you wish.

Receive a certificate of completion when you finish the course!
Topics Covered
Before You Start
Shed Antlers 101
Why Shed Hunt?
When, Where, and Timing
Scouting
Tips
Rules, Regulations and Etiquette
What to do with Sheds
Gear
Field Day
A really great course that goes beyond just shed hunting. I really appreciate Steve sharing this ingormation. Class goes beyond just shed huting and into scouting and using technology to scout for sheds and elk behavior. Always learn something from Steve when I watch his YouTube channel and certainly learned a lot from this course. Thanks for sharing Steve.

Wesley Quinlan

Found a couple shed antlers on our recent archery hunt, so it was fun to hear a more strategic approach to finding them next spring.

Katherine Burgert

I am new to deer hunting (based in Australia rather than USA), but found the course fascinating and although tthere are no elk here (but "wapiti" in NZ), I reckon I can still use the tips for scouting and shed hunting for sambar (and reds and fallow).

Jonathan Myers

This was excellent. Good mixture of hard won experience, technology, regulations and best practice. I don't plant to hunt elk sheds, but I gained knowledge about elk behavior.

Thomas Haanen
*By enrolling in this course you understand that it does not include an annual membership to Anchored Outdoors or any of the extras/additional perks. This purchase only includes the online course content.